Odeon of Herodes Atticus
Odeon of Herodes Atticus is located the Southwest slope of the Acropolis of Athens, Greece.
It was built in 161AD by Herodes Atticus completely out of stone. These times are referenced back to the "Roman years'. Many famous performers has used this magnificent stone structure, "Odeon of Her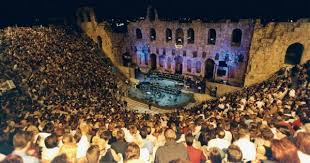 odes Atticus" as a venue. Frank Sinatra, Elton John, and Sting have all performed at this ancient theatre. Since the 1950's, it has been the main venue of the Athen's Festival. This festival usually starts in May and continues until October every year.  The seating capacity of this amazing theatre is six thousand seats.